My Works
Following are the projects I work on during my spare time.
VMime Library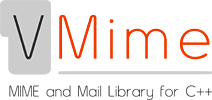 VMime is an open source C++ class library for working with RFC-822 and MIME messages and Internet messaging services like IMAP, POP or SMTP.
I have been working on this project since 1998. VMime is used by a growing number of projects and some major companies like Zarafa.
Kisli

I am co-founder of Kisli, an IT consulting company founded in 2011, and specialized in computer software development, mobile and web technologies.